Turned Rs 30 lakh into Rs 2.3 crore. Ignore Sensex levels, and start investing.
You believe you are the world's unluckiest investor. Somehow your taking a step into the markets will make them go down. Apart from giving yourself too much importance, this line of thinking makes you stay on the sidelines and prevents you from bringing home the wealth creation that equity in a growing economy makes possible.
Let's take the story of the India's unluckiest investor. She manages to invest Rs 1 lakh each year in the Sensex on the day the markets hit their 52-week high starting 1992. The Sensex is the 30-stock index whose value touched a lifetime high of 63,915 on 28 June 2023. A 52-week high is the highest value of the Sensex in a given year – I have taken calendar year values from the BSE database.
She does this year after year, somehow managing to be unlucky each year. But she does not sell, but continues to hold the index over time. As of yesterday, her total investment into the Indian stock market's most famous broad-market index was Rs 30 lakh and the value of her investment was Rs 2.30 crore. That's right. The worst possible outcome, if held tightly over time, has given an 11% average annual return.
This includes two years in which her money was reduced to half or less. In 1992, she invested at a high of Sensex value (ignoring decimals) of 4,547, and closed the year at 2,615. 2008 was far more brutal, a high of 21,207 was reduced to a low of 7,697, and a closing annual value of 9,647. Her money survived this bloodbath and kept its head over inflation and taxes.
How did the luckiest investor fare? I have data for a 52-week low starting 1996, so over this time period, the luckiest investor who bought the Sensex on the lowest point of the year, invested Rs 26 lakh and ended up with Rs 2.67 crore, an average annual growth of 15%. It is higher, but not hugely so than the unluckiest investors' Rs 2.30 crore and growth rate.
The markets, long-term, go up in a growing economy. If you keep sitting in the sidelines waiting for a 'low' you will keep missing the flight. Do you know who has made money in the latest stock market high? It is not the big foreign suit of an institutional investor. It is not the HNI who is too smart for his own good. But the retail investors who have approached the market with a systematic investment plant and have remained invested. They have trumped the big money.
Start with an SIP into an index fund on the Sensex or the Nifty 50. Taste mutual funds through this route and as you gain confidence you can begin to diversify into managed funds on the mid- and small-cap side. Remember that you need a system and not a tip of 5 funds to invest in.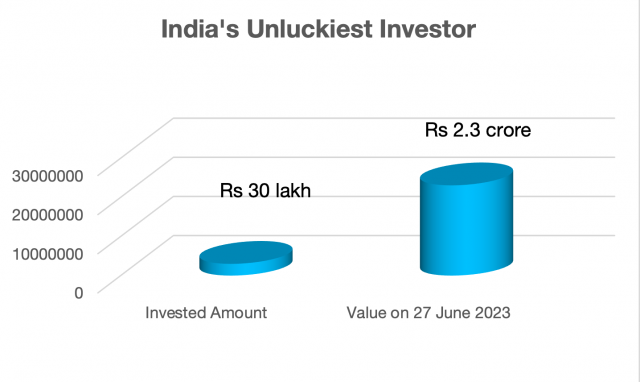 Monika Halan is the author of the best-selling book Let's Talk Money